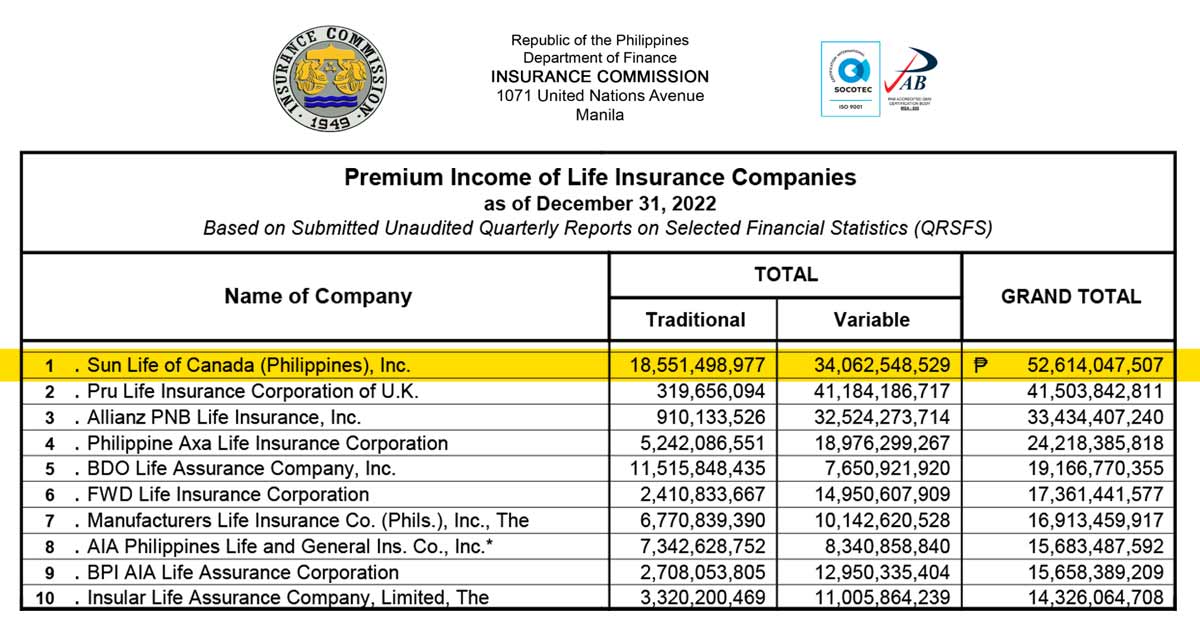 29 Apr

Sunlife is the Top Life Insurance Company in the Philippines for 2022

SunLife's remarkable achievement of being ranked number one for the 12th consecutive year is truly awe-inspiring. The company has not only dominated the Total Premium Income category but also recaptured the New Business category generating more than 9.7 billion worth of new business, reinforcing its undisputed leadership in the industry.

This achievement is a testament to Sun Life's unwavering commitment to prioritizing its clients above everything else. The rigorous and deep-seated commitment of the company in ensuring that its Financial Advisors are always updated and ready to empower more Filipinos through financial literacy is truly commendable. This commitment is a reflection of Sun Life's mission of giving back to the community.

Sun Life's success is not just about numbers and rankings. It is about the impact that the company has on the lives of its clients and the community. Being number one means that Sun Life is able to fulfill its promise of providing superior financial products and services that meet the needs of its clients. It means that Sun Life is able to provide financial security and peace of mind to its clients, enabling them to achieve their goals and dreams.

Sun Life's commitment to financial literacy is also a significant factor in its success. The company understands that financial literacy is key to empowering Filipinos to make informed decisions about their financial future. By providing accessible and relevant financial education, Sun Life is helping to create a financially literate society that is better equipped to manage their finances and achieve their goals.

Sun Life's success is also a reflection of its commitment to giving back to the community. Through various corporate social responsibility initiatives, Sun Life is making a positive impact on the lives of Filipinos. The company's commitment to building sustainable communities and promoting social and environmental responsibility is admirable.

In conclusion, Sun Life's achievement of being number one for 12 years in a row is truly remarkable. It is a testament to the company's commitment to its clients, Financial Advisors, and the community. Being number one means more than just rankings and numbers; it means that Sun Life is achieving its mission of providing financial security and empowerment to Filipinos. Sun Life's success is a source of inspiration and motivation for all of us to strive for excellence and make a positive impact on the lives of others.